order a rug sample from studio element
Ordering a 30cm X 30cm rug sample lets you preview the colour, weight and finish of your made-to-order rug with utmost accuracy. I offer my hand-tufted rugs in four different finishes, and am happy to work with you to determine which finish would work best for your chosen design and intended use. Rug samples cost £30 each.
As everything is custom made, incuding the samples, please allow 2-3 weeks to complete your sample order. Depending on your location I also may be able to loan you one of the samples that I have in stock to review - please contact me for more information.
The different rug finishes that I offer are outlined below: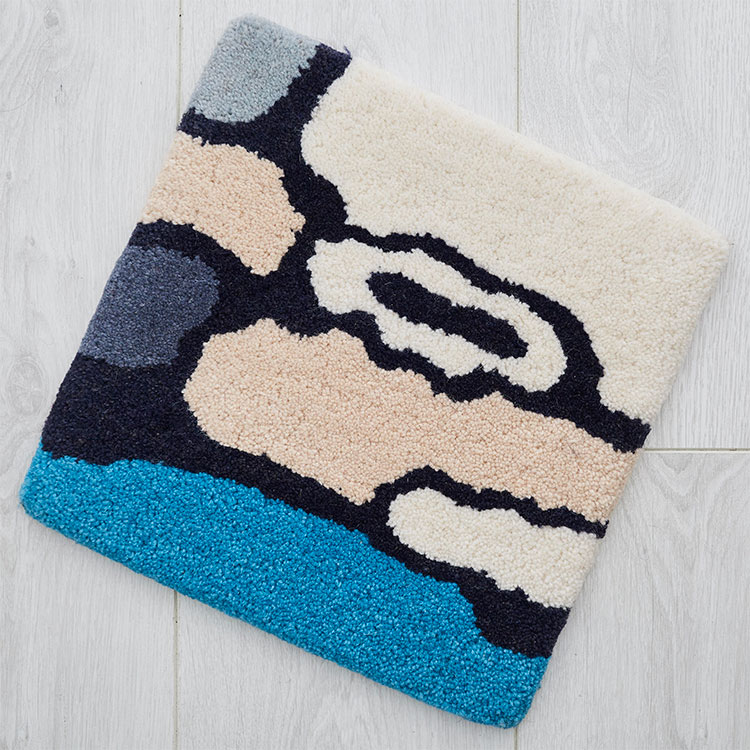 plain cut pile rug
This sample shows a tufted rug with a cut pile. In a cut pile, individual strands of wool stand straight up to create a smooth, soft feel. This finish works best with simpler rug designs to create an unfussy yet highly effective feel. The standard thickness of cut pile rugs is 15-20mm - other thicknesses available on request.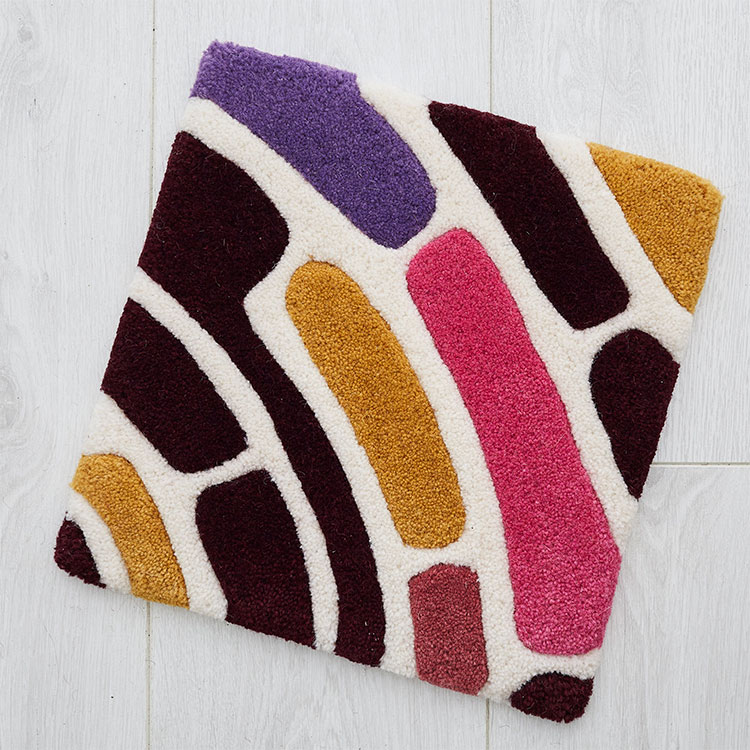 grooved cut pile rug
For rug designs with more detail where a more precise look is desirable, choose a cut pile rug in which the edges of the different coloured shapes have been indented (often referred to as carved or grooved). This ensures that the edges of the shapes are more precise, creating a cleaner looking design overall. Sample Shown: Tree Stump - Violet Round Rug
loop pile rug
For higher traffic areas, consider a harder wearing loop pile rug. In a loop pile rug, individual strands of wool are pulled through the carpet backing twice to create small loops. The coarser nature of this finish makes it ideal for simpler designs, and at a height of just 9mm (compared to 15-20mm for a cut pile), these rugs are also perfect in situations where furniture needs to be placed on top of your rug. Sample Shown: Flutes - Forest Rug
combination rug
For something more elaborate, consider combining cut and loop pile. This effect introduces varying heights that will add another layer of complexity to your design, which creates for a real showpiece that will be the focal point of your space. This effect works well with some of the more bold, showy floral designs in the collection. However you do have to ensure that the design is not too intricate, as that would make it difficult to render this effect well!
colour tuft box
If you would like to see all of your colour options, I can send you a colour tuft box containing carpet tufts in all of the standard colours I use. Depending on your location, I may also be able to loan you individual colour tufts I have in stock to review - please contact me for more information. Ordering a colour tuft box costs £15. All of my rugs are designed using 48 standard colours, viewable here.
I take great care in colour matching the images on my website with the finished products. Nevertheless, computer monitors will always vary slightly so I do recommend reviewing colour tufts before ordering if precise colour matching is important to your project. Because of the nature of made-to-order products, I am unfortunately unable to give any refunds due to perceived minor variations in the colour of your finished product and the image on the website.