past projects & commissions
Need more inspiration? Below are some of the projects I have worked on in the past, incorporating both off-the-shelf designs and custom commissions.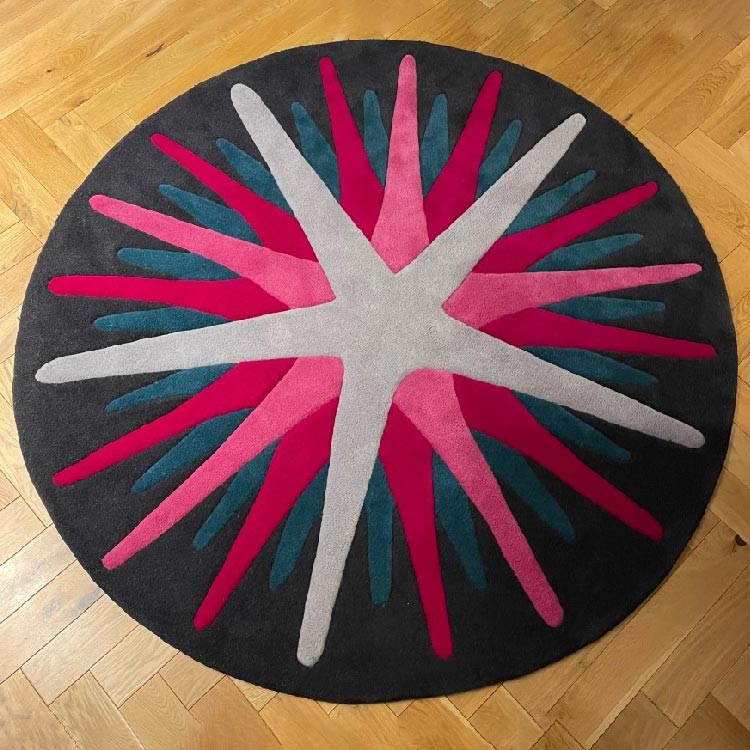 round rug for a stylish, modern living space
Ed was looking for a stylish, durable modern rug for a living space for a young family. A custom colour scheme was chosen to complement existing furniture and accessories already in the space. I created several drawings of various designs using the custom colour scheme, and we settled on the Burst round rug.
This was the feedback received from the client: "We're absolutely delighted with the rug which Belma designed for us. She was able to tailor her standard designs and offer us a number of bespoke options which toned with our colour scheme. She was very professional and thoughtful throughout the process, and the end product is fantastic - thank you very much for all your effort and hard work !"
round rug for a colourful tropical apartment
Interior designer Yasmin Chopin was working on a modern apartment with a bold, tropical colour scheme for a client, and got in touch with me to source a rug. They chose the Pond Life Round Rug in a warm, neutral colour scheme as the perfect piece to tie the bold yellow and orange hues and natural patterns of the rest of the room together. Photo by: Georgi Mabee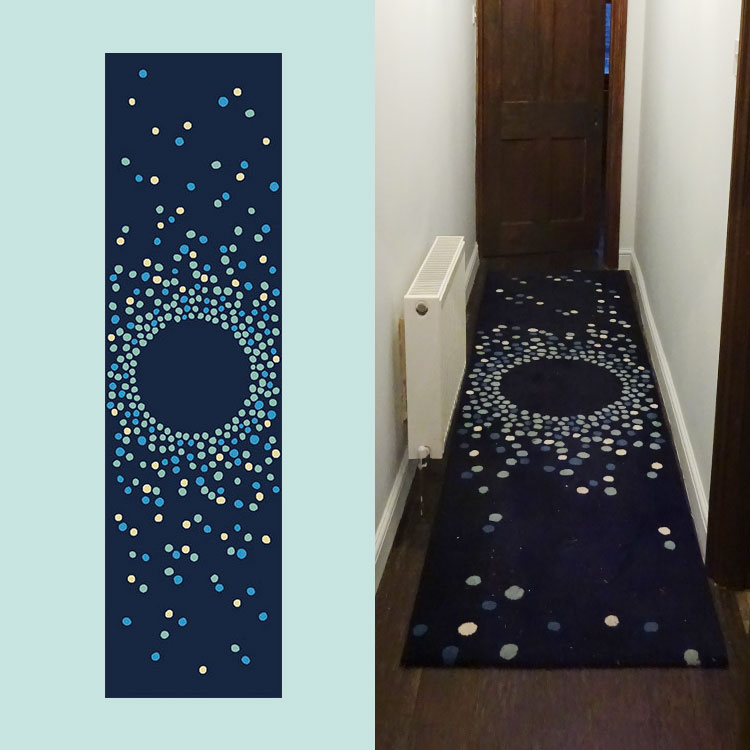 stylish standout hallway runner for a modern flat
Sarah was looking for a runner for her new flat and was drawn to the Star Cluster rug at the London Design Fair. She was happy with the existing 'Frost'colour scheme, and a little bit of tweaking of the original design was required to convert it into a runner. The end result fits her space perfectly.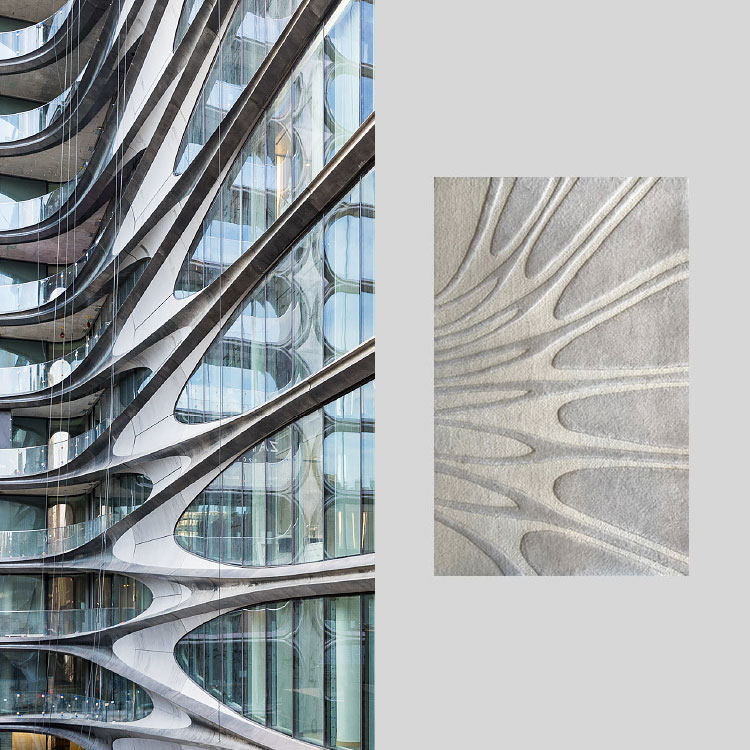 manhattan high line rug for blackbird london
For the launch of their 'Manhattan High Line' collection in February 2018, the owners of Blackbird London (a furniture and home accessories shop in Clapham) were looking for a geometric design inspired by Manhattan architecture in a subtle, wintry colour scheme. Applying my usual graphic, geometric approach to architectural rather than natural forms, I drew inspiration from an iconic building that can be seen from the Manhattan High Line designed by renowned architect Zaha Hadid to create a curvilinear, futuristic design in subtle shades of cream and beige. We also used a combination of tuft and loop pile for a textured 3D effect.
colourful round rug for a small space
Helen was looking for a small round rug for  an open plan living room/dining room/office space. We spent some time together in the space examining at the way the different coloured tufts looked in the space and in relation to the other accessories she had already chosen. We finally settled on a custom turquoise and orange colour scheme, as she already had a lot of turquoise accessories and was looking for a complementary bright colour to offset it. For a small rug in a small space we didn't want anything too busy, so I reworked one of my simpler designs (Seaweed Knots) into a custom round rug, to great effect!
bespoke rugs from studio element
All of my rugs are made-to-order, which makes it very easy to customize the colour or size of any design to suit your space. The purchase of a rug is a big decision that you will be living with for years to come, so why not get something that is suited exactly to your space and decor? From custom sizes and colourways of an existing design, to a bespoke design made just for you, I am happy to accommodate your request.
I am available to meet anywhere within London and the surrounding area to review samples and discuss your project in person, and can also arrange a telephone consultation for those from farther afield.
All rugs are designed using 48 standard colours, viewable here – please keep this in mind when making a custom request. If you would like to review all the available colours to help make a decision, why not  order box of carpet tufts?
All custom orders are priced at £325/square metre and will attract a design fee of £50/hour (1 hour minimum) for any alterations requested to the standard design - a detailed quote will be provided when your request is received.